Diving and Snorkeling in Pattaya
The extremely popular garden restaurant the Captain's Corner Steak House located in the grounds of the Residence Apartment Suites on Thappraya Road will be celebrating its 10th Anniversary this year.
Pattaya offers year-round diving with Mermaid's dive center. A diverse selection of sites and excursions at comparatively low prices.
A water temperature of around 30C all year round makes this a popular sport with both experts and beginners. Many beginners come here especially to learn at one of the several five star diving centers for a fraction of the cost of the equivalent training in their home countries.
Courses range from one to four days, depending upon the proficiency you wish to reach and the type of diving you wish to learn. Contact Mermaids Dive Center for more details
Daily Dive Trips
If you already have a proficiency certificate, a day's diving will normally cost you just under 3000 baht with equipment supplied. Various options are also open for experienced divers, including specialist days as a boat diver, drift diver, underwater naturalist, underwater videographer, and also nitrox diving. These will cost 4000 baht for two dives and instruction.
Two day specialty dives available from Pattaya include deep diving, wreck diving, underwater photography and night diving. These are normally priced at around 11000 to 6000 baht for two days. Coral dives around Pattaya are surprisingly good. The somewhat limited visibility is more than compensated for by the huge variety of marine life and abundant coral formations. Our trips include two dives, lunch and a qualified PADI Divemaster or Instructor to supervise the trip.
Dive Courses
For the beginner or the intermediate diver who wants to learn or improve, PADI courses are readily available. An open water dive course over four days will get you your PADI certificate for around 16,700 baht ($300 or £220), with an advanced open water diver two day course at 15,000 baht with five dives. There are also day-long introductory dive classes if you are short on time. A 21 day dive master course is around 31,000 baht, and some people stay on to teach diving at one of the centers, which are often keen to employ new instructors.
Pattaya dive sites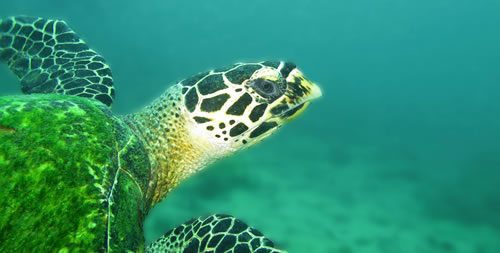 There is a large selection of diving sites within easy reach of Pattaya, and most boats leave from either Pattaya or Jomtien. The most convenient and popular areas to dive are around the various offshore islands only a few kilometers from the mainland. The islands further from the shore take longer to get to but tend to be a lot quieter and do not suffer from the speedboat and jet-ski traffic of the islands closer to Pattaya.
The main dive sites in the area include:
Koh Sak:
has two main sites starting in a sheltered bay so it's ideal for beginners and those who have not dived for a while. There are lots of hard corals and fish in this shallow (12/14 meter) diving area.
Koh Larn:
is the largest island near Pattaya. It is a popular day trip for tourists and there are therefore quite a few dive spots. Shark Point, as the name suggests, is the place to see young sharks as well as the odd turtle or cuttlefish with soft coral to 22 meters. Koh Larn Vak is most notable for a half built restaurant which was so badly sited that it sank during its construction, leaving some interesting small caves and new coral on the concrete. Golden Bayalso on Koh Larn is a multi-purpose dive site with a deep drop off to around 50 meters and coral down to about 25 meters. Some very good hard coral at between 7 and 10 meters provides some intriguing diving.
Koh Rin:
is one of the 'far islands' situated about 15 kilometers off Pattaya and which takes 90 minutes or so to get to. It has three main dive sites; the one at Koh Rin Bay being a relaxing dive away from currents, while Hin Ton Mai and Hin Khao (Northern and Southern Rocks) are very popular for the diverse variety of fish and coral.
Koh Man Wichai:
is another 'far island' and is a favorite with returning diving visitors. The two excellent dives here bring many people back year after year with a variety of environment in each dive. The nearby Koh Hu Chang is a tiny island with good coral and a profusion of small fish, with a relaxing 10 meter depth.
Koh Phai:
or Bamboo Island is controlled by the Royal Thai Navy, who restricts the use of the beaches, but the small sheltered bay at the south of the island is ideal for beginners.
Samae San:
and the surrounding sites have some of the best diving in the region. The Hardeep Wreck of a freighter that sunk in 1943 is the reason why most divers come to this site, but at 27 meters it is not one for beginners. There are two very pleasant coral dives nearby.
Koh Chuang:
near Koh Chan and Submarine Rock, provide three areas of diving interest not far from Samae San, with different corals and fish at each site.
Mermaid's Dive Center:
in Jomtien is a PADI 5 star center with its own boats and qualified professional on board every trip. Tel: 038-303333 web: Mermaids Dive Center There are more dive centers in the region and most will pick you up at your hotel and deliver you back afterwards, as well as provide food and non-alcoholic drinks during the day.